Affinity Groups
Sisterhood
Women's League for Conservative Judaism is the largest synagogue based women's organization in the world. Sisterhood is an active arm of the Conservative/ Masorti movement and supports the Temple of Aaron, Israel and the Conservative movement in many ways. By joining the Temple of Aaron Sisterhood, you are automatically included in the largest synagogue based women's organization in the world. Every woman has the opportunity to participate in preserving, promoting and perpetuating Conservative/Masorti Judaism through active giving to the Torah Fund Campaign of Women's League in support of The Jewish Theological Seminary (New York, NY), Ziegler School of Rabbinic Studies (Los Angeles, CA) and the Schechter Institute of Jewish Studies (Jerusalem). Please contact Sisterhood President Margie Schneider to get involved.
Benefits of Sisterhood Membership:

To be informed—about women's issues, Jewish traditions, family, Israel, world communities and affairs.
To be involved—through your representation of Jewish women worldwide and through participation in local Tikun Olam projects.
To be enriched—by sharing ideas, through arts and crafts, and through leadership training and Jewish educational programs.
To be inspired—by our Jewish connections and be motivated to make personal marks on our community and families. .
Men's Club
Temple of Aaron Men's Club activities focus on service to the Synagogue, both socially and ritually. We provide service to the Religious School in many instances such as cooking pancakes during the opening of classes and flipping latkes during Hanukah. We sponsor many other activities, such as building the Sukkah each year and the Temple Picnic.  We have a number of other programs during the year Men's Club Shabbat weekend, bonfires and Athlete-in-Residence.  We have renewed leadership with Co-Chairs Mike Bell, David Goldman, and Howie Paper.
TAXY (Temple of Aaron's Generations X and Y)
TAXY serves as Temple of Aaron's young professionals group. Since its inception in 2012 it has reached hundreds of young Jews throughout the Twin Cities.
TAXY hosts many events that are social in nature but combine with doing good and learning. For example, TAXY hosts a Fantasy Football League for the JNF(appropriately titled JNFL). For more information about how to get involved please contact Rabbi Fine.
Past Events Include:
| | |
| --- | --- |
| FREE Modern Trip to Israel with Rabbi Fine | Whirlyball Tournament for the ALS Foundation |
| Comedy with Shaun Weiss (Goldberg Mighty Ducks) | Concert @ Billy's featuring The Voices' Todd Kessler |
| Human Foosball Tournament for Lone Soldiers | Holiday Happy Hours at Tiffany's, Moto-I & more |
| Celebrity Charity Bowling Event at RamHam | Trivia Night at Glueks in Mpls |
| Family Fun and BBQ at the St. Paul Saints Game | Weekly Basketball Games |
Social Justice & Social Action
The Social Justice and Action Committee provides an opportunity for Temple of Aaron members interested in seeking justice and helping those in need in our community, our state and our world to put our Jewish values into practice. An inclusive group committed to Tzedek (Justice) and Tikkun Olam (Repairing the World), we believe that a primary way to keep our covenant with God, learn from the Torah and practice Jewish life each day is through our actions towards all people. Our committee divides its work into three components: service and doing, education and engagement, advocacy and policy work. We believe that being engaged in social justice is an important way to connect with each other, strengthening both the Temple of Aaron community and the broader community. It is also an umbrella group for the ToA Environmental Committee which has been a leader for the synagogue's Green Initiatives. Contact President Brian Zaidman for more information.
Boomers
Boomers is a social and educational group for men and women over the age of 50. Its an opportunity to come together for events and speakers. Often programming is during the day and aimed towards members who want a stress free Jewish social group. Programming has included Coffee and Learning with the Rabbis, Movie Nights, and St. Paul Saints game.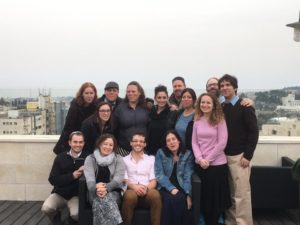 Israel Committee
Israel's safety and prosperity is a top agenda for Temple of Aaron. Throughout the year we offer classes and speakers partnering with a wide-variety of Israel centered organizations including Jewish National Fund, Israel Bonds, AIPAC, Masorti Foundation, P2G Partnership and more. We offer a monthly perspective on Israel in our Aaronion monthly newsletter. We host AIPAC's annual St. Paul event and more!
2016 summer opportunities guide has been sent to students
Packages during the holidays
Rabbi Fine & ToA Staff Campus Visits

Dear Students and Parents,
During my time at the University of Illinois in Urbana-Champaign I loved when my rabbi visited campus or I received a package from my synagogue filled with the comforts of home. These special touches kept me connected to my Judaism and synagogue.
Temple of Aaron is excited to relaunch our College Kesher program. We look forward to college campus visits, programming and education for both students and parents, along with resources to help students with future opportunities.
We are encouraging a minimum donation of $36 to enroll your child in the College Kesher program. This allows us to continue connecting with as many students as possible throughout the year.
Sincerely,
Rabbi Jeremy Fine
*If you are interested in becoming a lead donor for the College Kesher program, please contact Rabbi Fine at 651-698-8874 x112 or RabbiJeremyFine@templeofaaron.org.